FREQUENTLY ASKED FINGERPRINTING QUESTIONS
​
APPLICANT PROCESS
Here is basic information for individuals needing to submit fingerprints to the DOJ for background checks.
Step One (1) – Get the forms
If you are applying for employment, license, certificate or permit with an applicant agency requiring a background check, you must get the instructions and the forms required for fingerprinting services from that agency. The agency will complete its information to ensure accuracy. You will need to add your personal information to the form before getting fingerprinted.
Step Two (2) – Get fingerprinted
Once you have obtained the necessary forms from the applicant agency, go to a local Live Scan site to be fingerprinted.
Please note: You must present valid photo identification when being fingerprinted. Expired identification information will not be accepted.
There also is a criminal history processing fee collected by the DOJ and Federal Bureau of Investigation (FBI) for the background checks. While often paid by the requesting agency, some applicants may be required to pay this fee themselves, so check with your requesting applicant agency. While the law requires applicant fingerprints to be captured and submitted electronically via Live Scan, DOJ does have limited statutory authority to issue an exemption to this mandate if an electronic transmission site is regionally unavailable or internal processing procedures dictate a need.
Step Three (3) – Wait for the results
Once the submission is received and processed, the DOJ will respond to the applicant agency either electronically or via U.S. mail.
Delays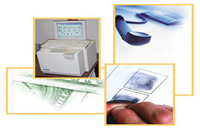 While most of the time results are returned to the applicant agency within three days, delays can occur. Applicants should check, for the first seven days, with the applicant agency that requested the background review since the DOJ sends results directly to the applicant agency. Delays can be caused by poor fingerprint quality, the existence of any criminal information in the applicant's record, birth dates before 1920, and incorrect data submitted on the electronic transaction. You can help prevent delays by making sure the Live Scan operator has entered ALL the information on your Live Scan form and entered it CORRECTLY.
A fingerprint-rolling fee may be collected when you get your fingerprints taken. Since this fee varies widely among locations, you will want to review the cost before going to a fingerprinting site. Be sure to check for any restrictions on method of payment, such as cash or money order only.
What is Live Scan fingerprinting?
Live Scan fingerprinting is a technology which allows us to capture your fingerprints electronically. After your fingerprints have been digitally captured they are then transmitted to the Department of Justice and/or FBI or other authorized receiving agencies. The true identity of individuals can only be established through the submission of their fingerprints.
Why Live Scan and not ink?
Most of the U.S. states are now requiring you to have your fingerprints taken using Live Scan. This new Live Scan technology allows us to replace the old manual ink method. With the electronic transfer of fingerprints it only takes seconds to transmit, instead of the days sending it with conventional US mail. The DOJ should receive your fingerprint submissions anywhere from a few hours up to 72 hours.
What you'll need for Live Scan services…
You will need to bring your "Request For Live Scan Service" application, also known as a BCII 8016 form. You will need to complete numbers 1-6 on the top half of this as accurately and completely as possible.(Click here to download BCII 8016 "Request For Live Scan Service" form).In addition to the completed form, you will also need the following: ORI Code, Type of Application, Job Title or Type of License, Certification or Permit, Agency Address, Contributing Agency, Mail Code, Billing Number (Only if they are paying for your background check), OCA (Your Number) If applicable. IMPORTANT! You must also have or bring a Government Issued I.D. Examples: Drivers License, State Issued ID Card, Passport ID, Alien Residence Card, Military ID, Out-of-State ID Card or Drives License, etc. Your ID MUST BE VALID (it can not be expired)!
What is a " Rolling Fee "?
A rolling fee is the amount an agency charges to digitally capture your fingerprints and transmit them to the Department of Justice and/or FBI or other requesting agencies. This fee varies from agency to agency.
If I've already had my Live Scan fingerprints taken, do I need to be fingerprinted again?
Yes. By law (and in accordance with your right to privacy) organizations and/or companies may not share applicant background information. In some cases, however, teachers and school districts may share this info. Please check with your local school and district to see if this applies to you.
My fingerprints were rejected. What do I do now? Will I have to pay again?
Fingerprints can be rejected for several reasons. The most common reason is that the applicant's fingerprints were too hard to read and subsequently were rejected. Reasons why they may have been rejected are: cracks, scars, cuts, bandages, worn down ridges, calluses or sweaty hands. If an applicant's fingerprints are rejected due to any of these reasons, the originating Live Scan agency must re-take the applicant's fingerprints at no additional cost if for any other reasons below. Other reasons why your fingerprint submissions may have been rejected:1) Your "Request For Live Scan Service" application was filled out incorrectly or was incomplete. When this happens the Live Scan agency must re-collect rolling fees and state charges.2) This rarely ever happens but if your fingerprints are rejected by DOJ and/or FBI (or other requesting agencies) due to any of the errors listed above, the Live Scan agency will take your fingerprints at no additional cost.If your fingerprints are rejected and you are having them re-taken you must bring your rejection letter from the Dept. of Justice and your original ATI (Applicant Transmission Identifier) number.
If your Requesting Job, School, Work or Agency does not have results yet and the digital Live Scan fingerprints were submitted, then you can use the DOJ Website to check on the status of your fingerprint submission. You will need the following information: (#1) your date of birth; (#2) your 10-digit ATI Number (Automated Transaction Identifier) that appears at the bottom of the Department of Justice - Request For Live Scan Form for background checks. The ATI number always appears in the following sequence: 1 LETTER; 3 NUMBERS; 3 LETTERS and 3 NUMBERS.
Please call us at 888-417-0203 for more information.